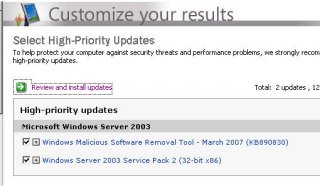 On Microsoft update and apparently soon on WSUS is Windows 2003 sp2. I want you to go over to your servers right now and turn off auto updates if you have then enabled on the servers. For R2 WSUS boxes you won't get SP2 automatically as SP's are offered up but not auto installed. But I don't want you to accidentally install this service pack as for us SBSers we need to read KB932600 …but as of right now the link isn't yet live..
Windows Small Business Server 2003 R2 (SBS 2003 customers – Please read Knowledge Base Article 932600 before installing SP2) …

I did not see this one coming. I am busy with other things and do not want to deal with SP2 until someone else figures out the problems. I do not have any problems that SP2 will fix. In fact I am pretty happy with my servers. With the tax season peak just around the corner this is the wrong time to drop in unannounced with SP2. Fortunately my servers will only update when I bless it. So I should be in good shape.